"We serve life, not because it is broken, but because it is holy." - Mother Teresa

The greatest motivation we could ever find for being passionately committed to the Church is that
Jesus is passionately committed to the Church.
Can there be any question that part of being like Jesus is to love what He loves and serve as he served.
We at Hillside are committed to serving His church, our community, our nation and our world.
There are always opportunities to serve both in the church and out.
Don't waste another second.
By partnering with our local school community, we are able to identify the children with the greatest needs in our area. Hillside servants are blessed by the opportunity to love these children by providing clothing, shoes, toys and food. Join in this great need by adopting a star to serve our sweet children and share the love of Christ through giving.
November 3 - December 8, 2019
Adoptions begin: November 3, 2019
Warehouse hours: coming soon
Delivery Date: December 8, 2019
Food Collection
We are collecting food for our Christmas Angel food boxes. Below is a list of the current items needed.
2 lb. bags of white rice
Canned black beans
Child friendly soup (ie. chicken noodle, chicken and rice, vegetable, chunky soups)
All donations should be placed in the designated bins near each main church entrance.
SPIRITUAL GIFTS ASSESSMENT
Take the 10 minute assessment to see where God intends for you to serve.
What do you think when you hear the word
MISSIONS...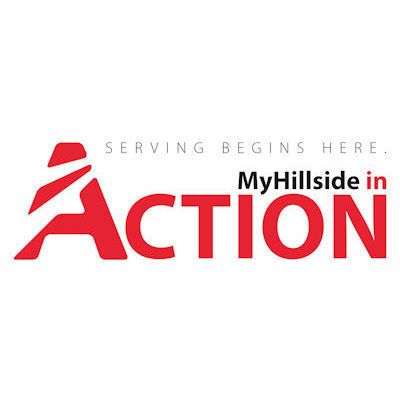 I didn't know it was my passion until I tried ...
The first step in finding your passion in serving the Lord is to try. Click on the volunteer form to connect with a new ministry.
The work of the church takes many hands. Be a part of helping others grow in their relationship with Christ through hospitality, music, teaching and more.
Hillside reaches out into our community through local partnerships and church opportunities. Join us in making a difference in the lives of our neighbors.
We reach out further into the United States by answering the call for disaster recovery, providing supplies when requested, and praying for our nation.
God has called many to serve outside the US into the world. We reach out to our brothers & sisters internationally.
Next trip: Honduras
Understanding your spiritual gifts is the beginning of knowing God's plan for you. Take the Spiritual Gift
Assessment test here to learn how God has shaped you to serve. Answer the questions honestly as to where you are right now in your faith walk, not where you want to be. Then sign up to serve.
There are different kinds of gifts, but the same Spirit distributes them. There are different kinds of service, but the same Lord.
There are different kinds of working, but in all of them and in everyone it is the same God at work.

1 Corinthians 12:4-6
Don't worry about anything; instead, pray about everything. Philippians 4:6
Where are you being called...
It's time to Go and make disciples...
Where will you go? Where are you being sent?
Should you serve in the church, in the community, both?
What are your Spiritual Gifts? What breaks your heart?
What are your abilities? What is your personality?
What type of experience do you have?
Consider each of these question and then find where you fit in God's plan. The question is not if will you go, but where and when.
CLICK HERE
, to begin your Spiritual Gifts Journey.
Hillside supports missionaries that serve out in the world every day spreading the Word. Most of our missionaries have grown up at Hillside and been called into a lifetime missionary life in other countries, college campus and high risk areas.
Please pray for all of our missionaries.
Are you ready to serve? Need help understanding where you should serve, or just have questions?
We would love the opportunity to talk to you and help you find where you fit.